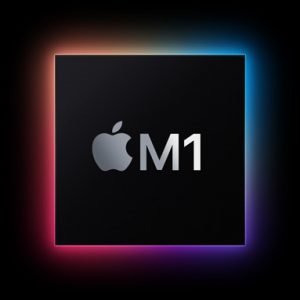 Apple Announces the Apple M1 Chip for Its New Mac Lineup
On November 10, Apple held its 'One More Thing' hardware event. This brought the announcement of the new M1 chip, with a new lineup of Mac computers sporting the new 5nm and 16 billion transistors chip.
The M1 chip is comprised of an octa-core processor, which Apple states contains the quickest CPU cores of any processor ever made, and the best performance per watt of any CPU in its class currently on the market (Faulkner, 2020). The eight cores are split into four high-performance cores and four high-efficiency cores (Miller, 2020). Each of the high-performance cores provide industry-leading performance for single-threaded tasks (Miller, 2020). Apple claims that the four high-efficiency cores deliver "outstanding performance at a tenth of the power" (Miller, 2020). The M1 also features an eight core integrated graphics processing unit (GPU) which Apple also brags is capable of providing better performance than the "latest PC laptop chip" while demanding less power (Faulkner, 2020).
The chip also offers some other benefits, including running iPhone and iPad applications natively, better battery life, and increased performance with processor intensive tasks like video and photo editing.
With the announcement of these chips comes the first Apple Silicon Macs powered by the M1. These are the 13-inch MacBook Air, 13-inch MacBook Pro, and a new Mac mini. These devices should all be available for pre-order now.